Home > Galleries > Emblem Sports Cars Pimperne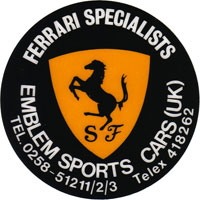 During the early to mid 1980's I ran the bodyshop at Emblem Sports Cars in Pimperne Blandford Forum. Specialising in Ferrari's we serviced, built and modified many of the high end sports cars of the era. It was an enjoyable time and I still work and stay in touch with colleagues and customers I met during my years at Emblem.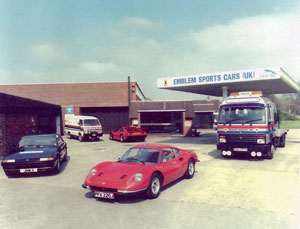 Luckily Mark and I have managed to locate and collate a selection of photos taken of some of the cars I was involved with.
Emblem was founded by John and Maria Woodfield in the 1970's until it was sold to Nigel Mansell in the late 1980's. Later it was taken over by Westover Sports Cars until the Pimperne site was sold on for housing development.
The Emblem name still lives on though. Tim Bate who had worked for Westover Sports Cars at the original Emblem site in Pimperne now runs and heads the new Emblem Sports Cars. Now located in Bournemouth Tim and his team still specialise in Ferraris, Maserati and Lamborghini and continue to keep the Emblem name and high quality personal service alive on the South coast.

Tim's kindly allowed us to use some of the photos you see on this page.
- Don Standhaft
Emblem Jaguar XJS
To my knowledge we only fitted three of our Emblem modified body kit's fitted to Jaguar XJS's and amazingly I have photo's of two, in fact during the mid noughties the present owner came to me to add more louvres to the white car's bonnet…
Don Standhaft
Two rare examples of the Emblem styled XJS body kits.
Emblem Ferrari 512 BB
Working on the Ferrari Boxers we adapted and modified them far more, moving onto shaping and designing aluminium kits ourselves. The red car is now in a collection in the Far East…
Don Standhaft
Two Ferrari 512 BB "Boxers" specially designed and styled at Emblem.
Emblem Ferrari 308 GTB
On the Ferrari 308's we also took fibreglass Koenig body kits but styled the cars further with air intakes and louvres…
Don Standhaft
A rare examples of the Emblem styled Ferrari 308 GTB.
Emblem Ferrari 308 GTS QV
At Emblem during the eighties we often worked on cars owned by Saudi Princes who loved the exclusivity, styling and things we were doing with Ferrari's at the time. Popular and cutting edge during this period these photos are of Prince Naif's modified Ferrari 308 GTS QV…
Don Standhaft
This Ferrari 308 GTS QV was specially designed and styled for Saudi Prince Naif. We did two conversions on this car a year or two apart. You can see some of the changes we subsequently made which include extra air intakes on the lower rear wheel ache/quarter and the rear spoiler in the last photo.
Emblem Lamborghini Miura
I personally only did minor bodywork and frame repairs on this rare Mirua, the guys resprayed it plus there was work on the interior and the engine of course…
Don Standhaft
A rare example of an Emblem restored Lamborghini Miura supercar during the 1980's.
Emblem Mercedes-Benz 500 SEC AMG
This Mercedes was another modified car for Saudi clients. With a lot of gold used in the interior and a number plate with 007 I guess it demonstrated the styling and requests we were getting at the time. This was only one of a number of modified Mercedes 500's we did..
Don Standhaft
A rare example of an Emblem styled Mercedes-Benz 500 SEC AMG, again for Saudi clients. This car had many subtle modifications much of the interior was gold plated – knobs, bright-work and buttons etc.
Emblem Volkswagen Golf GTI
We not only concentrated on the Ferrari's this Volkswagen Golf GTI had a blended body kit and was painted in pearl white which was new on the scene at the time. This car was owned by a wife of one of the Saudi Prince's…
Don Standhaft
A rare example of the Emblem styled Golf GTI body kit.