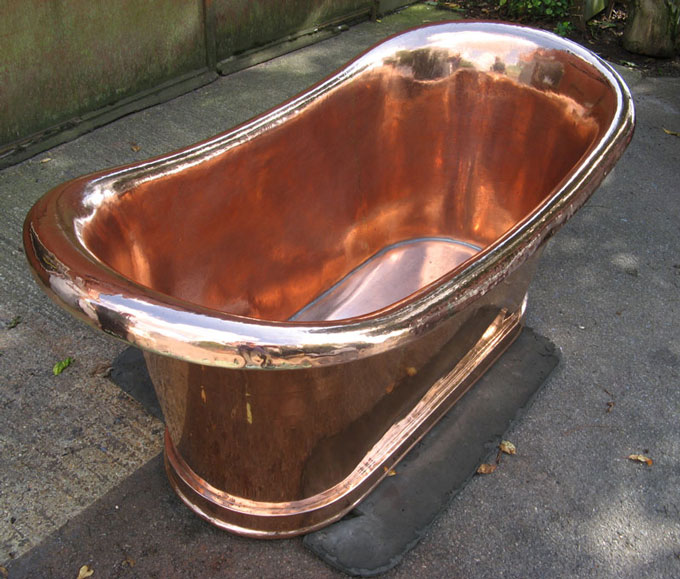 Antique French Roll Top Copper Baths
It is satisfying to restore an original copper bath to this standard from its poor original condition…
Mark Standhaft
A complete reconstruction of an original French 18th century roll top copper bath, our client wanted it polished and the final result looks particularly striking. Amongst the many baths we've worked on over the years, we've also found photos of a rare tinned/hand painted example we repaired a few years ago.
Large Antique French Double Copper Basin
We're probably not going to see another item like this again so it's nice to resurrect a piece as impressive as this…
Mark Standhaft
Another example of some of our copperwork, a large rare double copper basin. When this item came to us it was stretched, out of alignment with broken seams and no outlets. Like the copper bath above, our client requested it polished but it still had to retain it's history and integrity.
Antique Wrought Ironwork – Bench and Console
This sort of work does allow you a degree of creative freedom but you do have to work with symmetrical patterns and scrolls…
Don Standhaft
Over the years we've worked on a large number of antique ironwork and wrought ironwork pieces particularly French scroll-work, tables and consoles. Unfortunately we've only found photos of these two examples a simple wrought bench and console reconstruction. Much of this work has been repairs after all some pieces are over 200 years old!
Antique Candle Wall Sconces – Wrought Iron
We've often recycled parts of original wrought iron, off cuts and other original materials from our own or clients' stock…
Mark Standhaft
A selection of wrought ironwork candle wall sconces. Parts were constructed from sections of original wrought railings. All parts used to make these items were from our clients original reclaimed antique stock included embossed steel strips.
Antique Candle Wall Sconces – Wrought Iron and Carved Wood
Another selection of wrought ironwork with genuine carved wood candle wall sconces.
Very Large Antique Brass Lantern
This is the largest lantern we've assembled. We are quite proud of our work on this project, an impressive piece…
Mark Standhaft
A completely new reconstruction/new build assembled from some original sections but with the main frame and door sections built using new materials. Made using traditional methods and weighted to hang centrally with cleverly positioned lead work. An impressive lantern, large and no doubt now hung as the centre of attraction.
Assorted Antique Brass Lanterns
These photo's must really only represent about 5% of the total number of French lantern re-build, reconstructions or repairs we've undertaken in the last 25 years or so…
Don Standhaft
A selection of brass lanterns we've worked on and constructed over the years from the ornate circular to large Gothic style examples.
Assorted Antique Steel Lanterns
Not all lanterns are brass, these examples show work we've undertaken on steel versions…
Mark Standhaft
A completely new reconstruction of a large hexagonal lantern and an attractive pair with opening lids, designed and constructed by us.